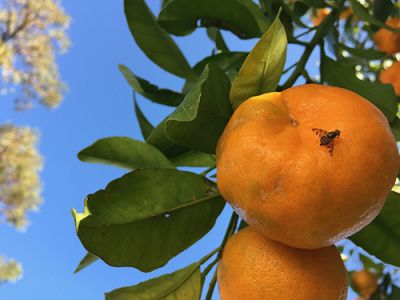 Why protect your fruit from fruit fly?
The mediterranean fruit fly is the single most devastating pest of fruit in WA. If you grow peaches, nectarines, mandarins, guava, feijoa or Aztec fruit without protection you are unlikely to eat one piece of clean fruit for the year. Not a very profitable or worthwhile exercise. From Esperance to Derby, the cursed fly has extended its range, only the Ord River is currently unaffected. The epicentre of this infestation, which has been with us for more than a century, is the Bunbury to Perth region.
How do fruit flies attack crops?
Male fruit flies gather under leaves, particularly citrus, and call the females. Once the eggs have been fertilised the female looks for ripe fruit to deposit the eggs through an ovipositor. Up to 300 eggs are injected into the fruit and as these hatch, the grubs feed voraciously on the flesh causing this to brown-off and turn to rot. The damage from breaking the skin and the subsequent rotting send a signal to the tree that this particular fruit is ripe and should be ejected. When the fruit falls to the ground the advanced grub then burrows into the soil to pupate.
Which fruit fly?
This is a good question as the Medfly has been joined on a couple of occasions by the Queensland Fruit Fly. If possible this causes even more devastation as its host range goes beyond fruit and includes vegetable-fruits such as tomato and capsicum. The previous QFly invasion cost millions of dollars to eliminate through the use of purpose-bred sterile male Qflies. A 2017 outbreak centred in Como near Perth is still being monitored and baited.