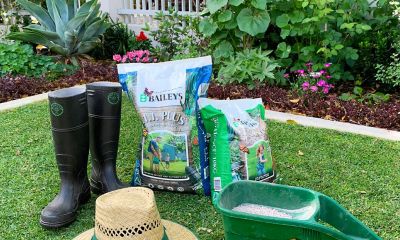 Lawns place in the home garden?
The latest research shows that lawns - rather than being profligate water wasters that should be minimised or eliminated; are now being hailed as suburban lifesavers. This research says that irrigated lawns and gardens are the single most effective means of mitigating the urban heat island effect, which is and will, kill West Australians in their homes. So my answer is hell yes!
My next question is how can we grow a sustainable green envelope for our homes and communities that use resources efficiently and still delivers 24 hour cooling, particularly during our terrifically hot summers. Well, here is Baileys lawn guide to achieving lush green growth year round.

Watering
Unless you have a bore, which allows you to water 3 times a week, you are restricted to 2 watering days a week through Spring, Summer and Autumn. Unless you have good levels of soil carbon under your lawn it might struggle to stay green and healthy on two drinks, regardless of which summer dominant lawn varieties you have, like Buffalo, Kikuyu, Couch or Zoysia. Make sure that every watering day effectively delivers a minimum 10ml water to your grass. You can measure this with catch cups placed around your lawn under your sprinklers, you can get catch cups from irrigation stores or use any straight sided cup.